November holds many great things such as National Novel Writing Month (NaNoWriMo), American Thanksgiving (stuffing anyone??), and the excuse to pull out cute fall outfits. Unfortunately, November also means that many people start catching their first illnesses of the season. Writing is already difficult, but throw in being sick makes writing an extra special struggle. However, rest assured, you can still do it! Even if you have to take a few days recovering in bed, getting to that 50,000 is still within your reach and isn't as hard as you think.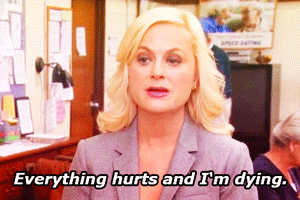 Here's how you do it…
Squeeze in writing time. Don't let being sick bring you down. Taking care of yourself is important, but if you have the strength then write when eating! Writing while eating meals can be a way to help get some words down. You're up anyway, might as well make the most of it!
Take advantage of times when you feel better. If you're home sick, there are times when you might feel a little better. Take advantage of those times to get some writing done. If you can multitask, then write under the comfort of your blankets, pop a movie in the DVD player, and write away!

Weekends are the best to catch up. When the weekend rolls around, block out more time for writing to give yourself time to catch up on some of the writing you might have missed out on while sick. Have a plan of how many words you want so you can set goals and achieve it. Plus, you can write during any free time you have.
Sprint along with friends to help keep you motivated – if that works for you. This works really well if you have another friend or person who is doing NaNoWriMo with you. Whether it's people from your writing group (if you have one), your home region, or just a friend in real life, try sprinting! Setting a timer for a set amount of time (i.e. 20 minutes) and then everyone starting and ending at that time, you will count of those words and post it. It's friendly competition, but also something that can help focus you for a certain amount of time. You can even post the last sentence that you wrote! You never know if someone else's line can inspire the next scene in your own story.

Be nice and understanding to yourself. Overall, just do the best that you can. Make sure you take good care of yourself so you can have a speedy recovery. The faster you feel better, the quicker you can get back to increasing that word count. Give yourself a break while you're sick. You deserve it. Plus, you didn't want to get sick, it just happens.
If, for whatever reason, you're sick throughout the month, still be nice to yourself. Life happens! Either way, you've written more than you would have otherwise, so be proud of yourself.
Now here's the honest truth on now to win NaNoWriMo while feeling under the weather (tried and true by yours truly!)… just believe in yourself. Keep up your motivation and don't let missing a few days consume your inspiration or put out that fire that's in your soul. Your novel needs you, so let's not let it down!
Is there any other advice you think I'm missing? Let us know below in the comments.
Keep on writing, all!
~Ali