It's nearly summer time! A number of Giddy Goat's are already planning their travels as the weather turns nice and Air is already counting down the days till she meets up with Gypsy and Brogums for an awesome adventure in a big city! This month, we're sharing with you some of our favorite places to visit — whether they be shops, historical sites, natural wonders, we're each giving you our top 3!
Air:
Alexandra Bridge, Yale, British Columbia (Canada)
Alexandra Bridge Provincial Park is a provincial park in British Columbia, Canada, located in the Fraser Canyon – not far from Spuzzum and Hope. The original bridge was built-in 1863, and was destroyed in a flood in 1894. It wasn't until after WWI that it was rebuilt around the 1920s for automobiles. That bridge still stands.  Every time my family goes to visit Hell's Gate we make a trip here, I love it. I'm not sure why, as a child I just found it so impressive and loved to walk along it and explore the area.
Rastoke, Slunj, Croatia
We stumbled upon this village on our way to Plitviče. It's a a watermill village situated where the blue-green water of river Slunjčica flows. And it's absolutely beautiful! I was in love with it and wished I could live there. The houses are actually situated on top of the river and waterfalls.
Attic Books, London, Ontario (Canada)
Attic Books is one of Canada's largest antiquarian and second-hand bookstores. There are three floors of books, maps, and ephemera. Plus a ghost, named Roland! Though I've not yet met him (even though I spend a lot of time in his section)! The building itself was built-in the 1870s. It would be silly of me not to mention a bookstore, especially one has awesome as this one! I often go here to see their as-is section and bring home a book or two every time.
Ali:
Gooseberry Falls State Park, Two Harbors, Minnesota (USA)
Not much of a hiker, but you want to have great views of a powerful and gorgeous waterfall? No problem! Gooseberry Falls is gorgeous and the walk to the falls is short and easy. If you decide to go around the falls, you have a nice trail set up for you and plenty of people around so you don't need to worry about getting lost. There are three levels of the falls, and while all of them are gorgeous, I recommend the mid-falls because you are at the perfect spot to see the water crashing down and water falling away.
Gunflint Trail and Boundary Waters Area, Grand Marais, Minnesota
Love the great outdoors? Whether you do or don't, as long as you love nature, this place is perfect. With various forms of lodging and different camping options, you'll find the perfect fit for you and your family. Scenic hikes that range from easy to difficult on the Gunflint Trail, or you can do canoeing/kayaking on one of the lakes in the Boundary Waters area (which I highly recommend)! Nature here is pretty paramount, and the drive up there is stunning! Just be aware that this area doesn't have cell service and wi-fi is only available in the main lodge for the majority of the places you can stay up there. If you want to be detached and tech-free to fully immerse yourself in nature, then this is a great place to do it. We got to spot deer, a bear, and plenty other wildlife on our visit!
Brogums:
Lily Dale, (Medium Village) New York (USA)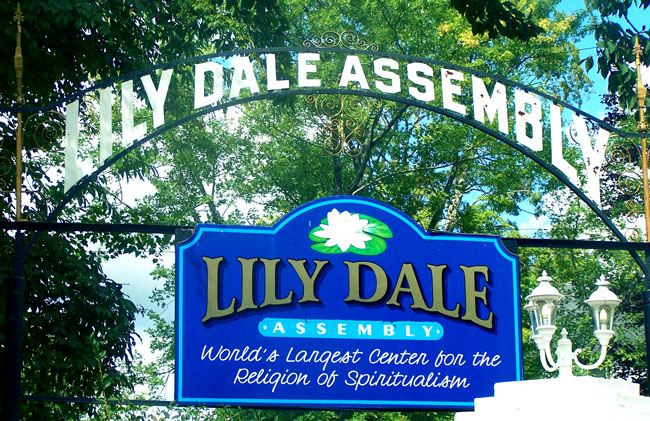 This is a place I actually haven't been to myself yet, but ever since one of my Aunt's visited there and has talked about it, my mom and I have been wanting to go!  It's a little hamlet in southwestern New York, where people can go and see and get readings done by "Mediums" or take part in some of their other spiritual offerings (such as workshops, lectures, public church services, etc.).  HBO even did a documentary on Lily Dale entitled: No One Dies in Lily Dale, and in one of the scenes if you look closely you can see my aunt in one of the shots!  Anyways, I think it would be a really fun and cool experience and hopefully I can go sometime soon.  Maybe even later this summer!
Emador:
Graceland, Memphis, TN (USA)
Elvis Presley was a national treasure in his time. You can't throw a rock at the Grammy's and not hit someone who he inspired.  His house is amazing to tour (it's self-guided with a headset, narrated by John Stamos – you don't get much better than that!) and across the street there is a huge complex with all sorts of shops, diners, and exhibits.  I've been 3 times and each time was awesome.
Haystack Rock, Canon Beach, OR (USA)
Okay, yes, it's just a rock, BUT it's the 3rd largest intertidal rock in the WORLD! That, and Canon Beach is really fun. It's just a small, super cute coast town in Oregon, but I always love going there.  Really, any coast town in Oregon is super cute (check out Astoria for Goonies filming locations and museum)!
Gypsy:
Thimbleberry Books, Marshfield, Wisconsin (USA)
This used bookstore won my heart from the moment I stepped through the door. It was more than just the vast selection of nicely priced books and warm decor though that left a wonderful impression on me, but the fact that there are two cats lounging around. This store certainly has character and it sets a mood that feels like magic.
SpeedTrap Diner, Woodville, Ohio (USA)
What a fun place to eat! Covering their walls is memorabilia from across the decades – music posters, records, antique license plates, just about anything you can imagine. They also allow their customers to leave their signature and the date on the walls. I look forward to traveling back through someday and finding the nook where my family recorded our names!
GOB Retail, Clawson, Michigan (USA)
For any game lover, this store is the place for you. Their shelves are stocked with board games, role-playing games, trading cards, how to books, comics, posters and more. Not sure if you will like a game you're thinking about purchasing? They have an open room you can try the game out for free!
Tara:
Lynn Canyon Park, Vancouver, BC, Canada

You should probably be good with heights for this one, because a big selling point is the suspension bridge over a lush river canyon. It's beautiful! Big trees form a canopy overhead, dirt paths wind around huge boulders and fallen logs, and a lovely icy river flows through it all. You can wander the forest, gaze off the bridge, swim in the brisk water, or just sit and enjoy. For years I thought the actual name of this place was the Enchanted Forest because that's what my mom called it, and that alone gives a pretty good idea of the magic of Lynn Canyon. It swallows you up and tucks you away until you never want to leave.
Mark Twain House and Museum, Hartford, CT, USA 
Whether you love Mark Twain or just cool houses, this is a great place to visit. The museum gives a lot of fascinating details about Twain's family life, his opinions and (most exciting to me) his writing. And the house itself is even better. It's a pretty dark and heavy structure, but absolutely stunning in every detail. As an aspiring writer I loved to hear the details of Twain's writing habits and see the places where his words moved from mind to page. It was in this house that Twain himself said he spent his happiest and most productive years.
"To us, our house… had a heart, and a soul, and eyes to see us with; and approvals and solicitudes and deep sympathies; it was of us, and we were in its confidence and lived in its grace and in the peace of its benediction."
— Mark Twain
Blarney Castle Gardens, Blarney, County Cork, Ireland
This seems a bit of an odd one, since it is a rather touristy place. Who hasn't heard of Blarney Castle and its famous Blarney Stone? But I want to focus specifically on the gardens. They are beautifully cultivated and immense, sprawling over several acres so that you can easily find yourself secluded in the trees and flowers and ferns during even the busiest season. There are a few different "gardens," (I'm partial to the bog garden and the woodlands, myself) and all of them are worth a wander. You can even catch a glimpse of the witch, trapped in stone until the night sets her free. 😉 
We tried to pick lesser known location for our favorites, hopefully they are of interest to some. Let us know if you've been to any, or feel free to leave us some awesome recommendations of your own!